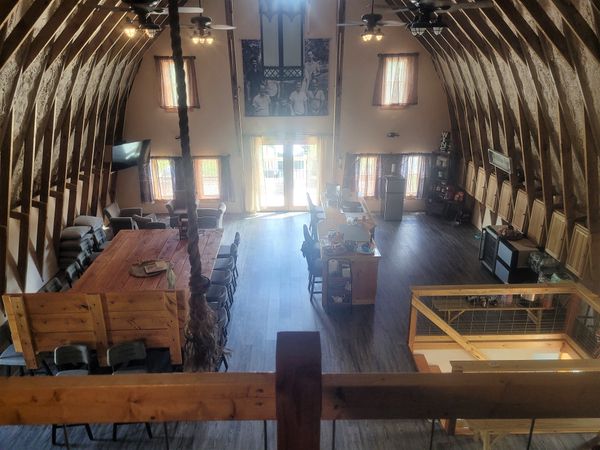 There's a lot that goes into booking the perfect family gathering. If you're in charge of finding a venue for your next big outing, you know how difficult it can be to find all the answers you need online. To help out, we've gathered some of the most helpful guest information about our venue as well as answers to some of the most frequently asked questions we receive from prospective guests. Check them out, and don't hesitate to reach out to us today to speak with a friendly and knowledgeable member of our team!
How Many People Can Sleep At Mum & Pup's Place?
Our barnhouse features ten bedrooms and can comfortably accommodate up to 18 people, which is also the guest limit for our property. Special situations may permit additional guests upon request.
Are non-related guests allowed?
While Mum & Pup's place is originally designed for the Audet family, we are happy to invite non-related guests to enjoy the property.
How does the visiting process work?
At Mum & Pup's Place, we have poured our heart and soul into making our property a truly unique and unforgettable experience for family gatherings. That being said, we are selective about who stays with us.
To start the booking process, you will provide us with your contact information as well as some basic details about your group. After that, our team will send you a questionnaire and some further information to review, which you will complete and return to us. Then, we will review your information, contact you with any questions, and, if everything lines up, approve and book your stay! Thank you for understanding how important it is for us to ensure our property is used the way it was always intended — as a special gathering place for families and their loved ones.
What activities are nearby?
The Lamoille Valley Rail Trail runs right by the property, giving you easy access to walking, hiking, cycling, horseback riding, snow-shoeing, cross-country skiing, snowmobiling, and more amidst some of the most stunning natural majesty Vermont has to offer. Stowe, a popular mountain resort town, is just a short drive away. There are plenty of family-friendly activities and events in Stowe year-round.
Do you have questions about staying at Mum & Pup's Place? We have all the answers you are looking for, so contact us today to speak with a helpful member of our team! We look forward to meeting you.